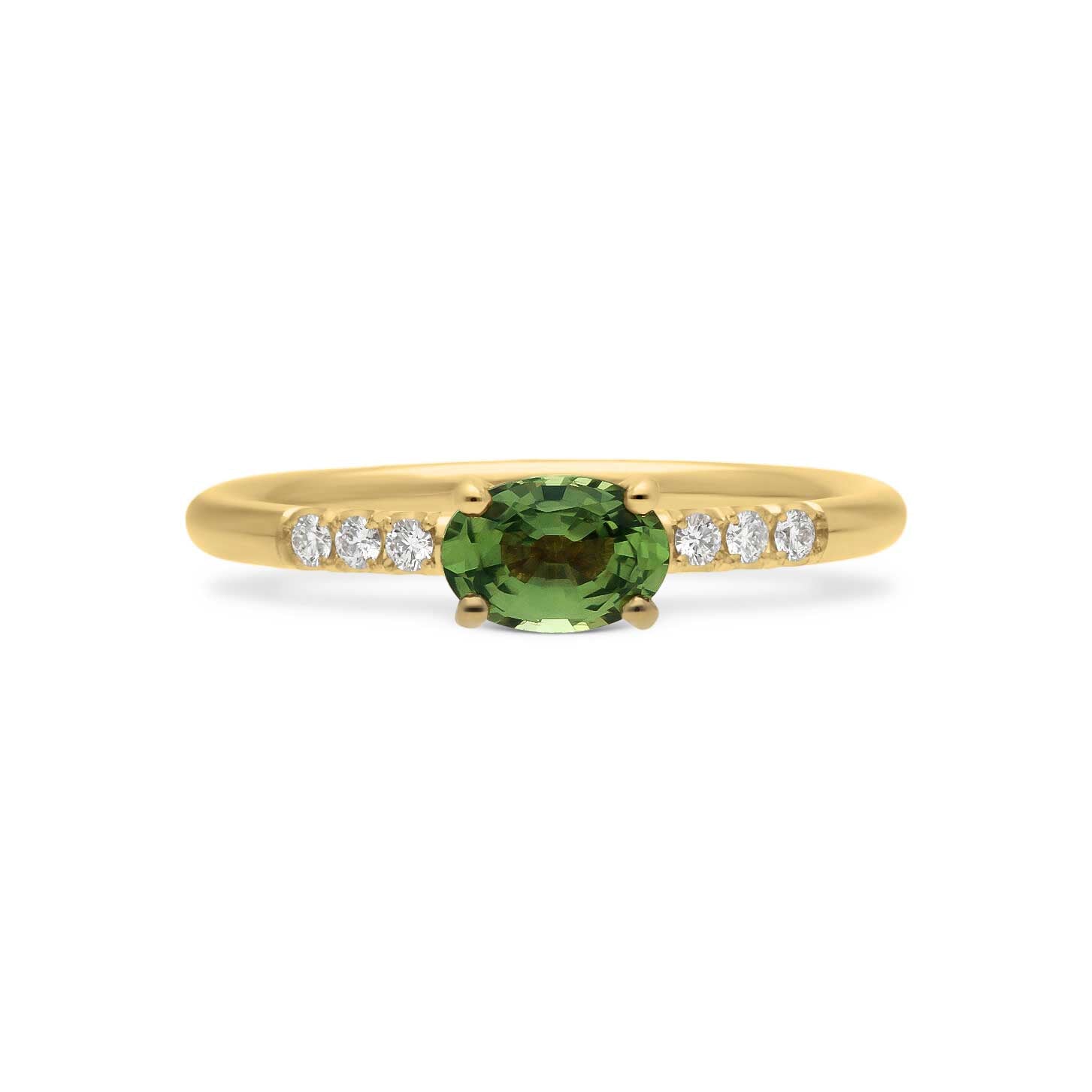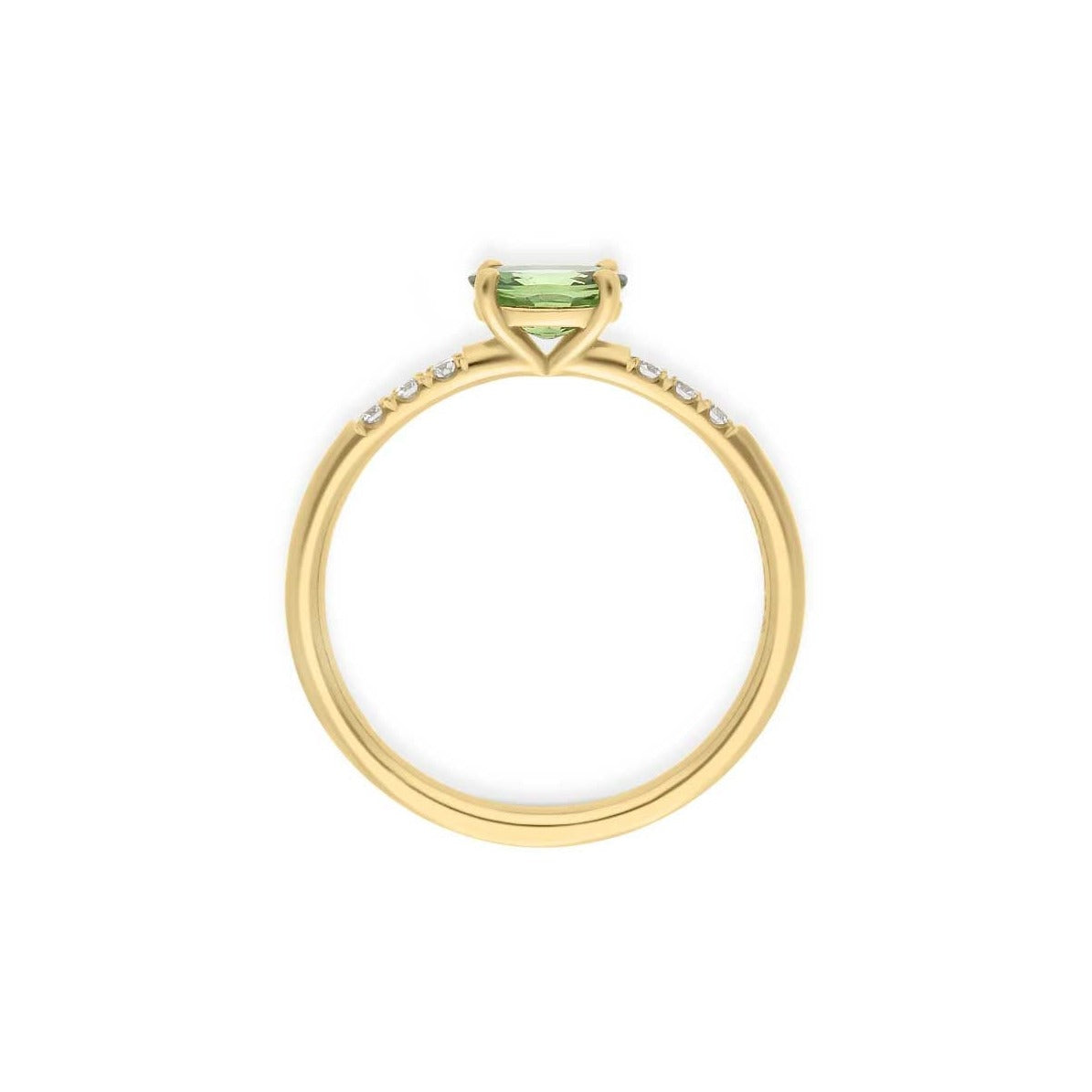 LOIS Yellow Gold Oval Green Sapphire Engagement Ring
Subscription • Save
R-EC-1952
Free UK delivery
The Lois Sapphire ring is handcrafted in recycled 18ct yellow gold in our onsite workshop. At the heart of the Lois ring is a claw-set oval green Sapphire set East-West across the finger.
LOIS Yellow Gold Oval Green Sapphire Engagement Ring
Details
The Lois Sapphire ring is handcrafted in recycled 18ct yellow gold in our onsite workshop. At the heart of the Lois ring is a claw-set oval green Sapphire set East-West across the finger.
This beautiful stone is flanked by six small diamonds which are castel set into the band for extra sparkle.
This gives the ring a contemporary vintage aesthetic. 
Recycled 18ct yellow Gold
0.61ct oval green sapphire

0.06ct g VS/SI white diamond side stones

Handmade in our on-site B Corp London workshop

size M
This ring can be sized +/-1.  For sizes above O please request a quote.

The Lois can be made or order in recycled 18ct white gold, yellow gold, rose gold & platinum. 
Sustainability
Sustainable

At EC One we believe to be sustainable you need to meet certain verifiable social and environmental criteria that increase your public transparency and hold you legally accountable. That is why we sought third party accreditation through the B Corp assessment in 2018. This assessment took 9 months to complete and involved evaluating every element of the business. We were so proud to be awarded B Corp certification in July 2019.

 

Made in London

Our jewellery is all made in our workshop which is located at the back of our Exmouth Market boutique. We walk or cycle to nearly all of our major suppliers, creating zero carbon footprint and supporting the local trade and community.

Recycled Metal 

After some consideration, and lengthy research, we believe the most responsible option for us is to use 100% recycled metals wherever possible. This is because it gives us greater traceability and transparency, whilst also reducing our environmental footprint.

Conflict Free Diamonds

At EC One we know the country of origin of 80% of our natural mined diamonds. This means we can guarantee the conditions under which they were mined and that they are from conflict-free areas and adhere to the Kimberly Process. 

Gemstones

At EC One we take our stone sourcing seriously. We know first hand that getting a supply of traceable stones is not easy. That means not just knowing the country of origin but also investigating the working conditions and the way in which they are mined and cut. That is why we work hard in conjunction with our local stone dealers to know the provenance of our stones and do not shy away from asking awkward and direct questions.

Craft

At the core of EC One is our Workshop; it is an integral part of who we are. It's a place in which we celebrate, showcase and preserve Goldsmithing skills. As a company we believe in training up the next generation of Goldsmiths through our four year apprenticeship program, with the ambition to keep this valuable craft alive. 

Empowerment

At EC One we are a supportive team of empowered women (with the odd man thrown in for good measure!). All of our employees earn more than the London Living Wage. As a business we want wherever possible to empower the next generation of goldsmiths, in a traditionally male dominated sector, we are proud to have three female Goldsmiths at the bench. 
Delivery
Free Delivery for UK Orders. Anything ordered from outside the UK will be liable for country specific duties and taxes.

 

How does it work?

For every item we post, EC One makes a financial contribution that helps support projects which protect and restore forests. These certified projects are in cooperation with local communities and comply with the carbon offset protocols and standards.
Why EC One?
The team at EC One are passionate about creating beautiful handmade sustainable jewellery here in our on-site London workshop. 


EC One is the UK's first B Corp certified jewellery workshop and constantly endeavour to minimise our impact on the planet. Alongside this the centre of all our decision-making EC One only makes in recycled Gold, Silver and Platinum.  Along side this we know the country of origin of 80% of our diamonds as well as the majority of our coloured gemstones.


We are now signed up to 1% For the Planet which means have committed to donate 1% of our annual turnover (rather than just profit) to organisations that protect the planet and our environment.


We also take great pride in training the next generation of Goldsmiths. We embrace new technology in our workshop while teaching traditional diamond-mounting to keep traditional skills alive.