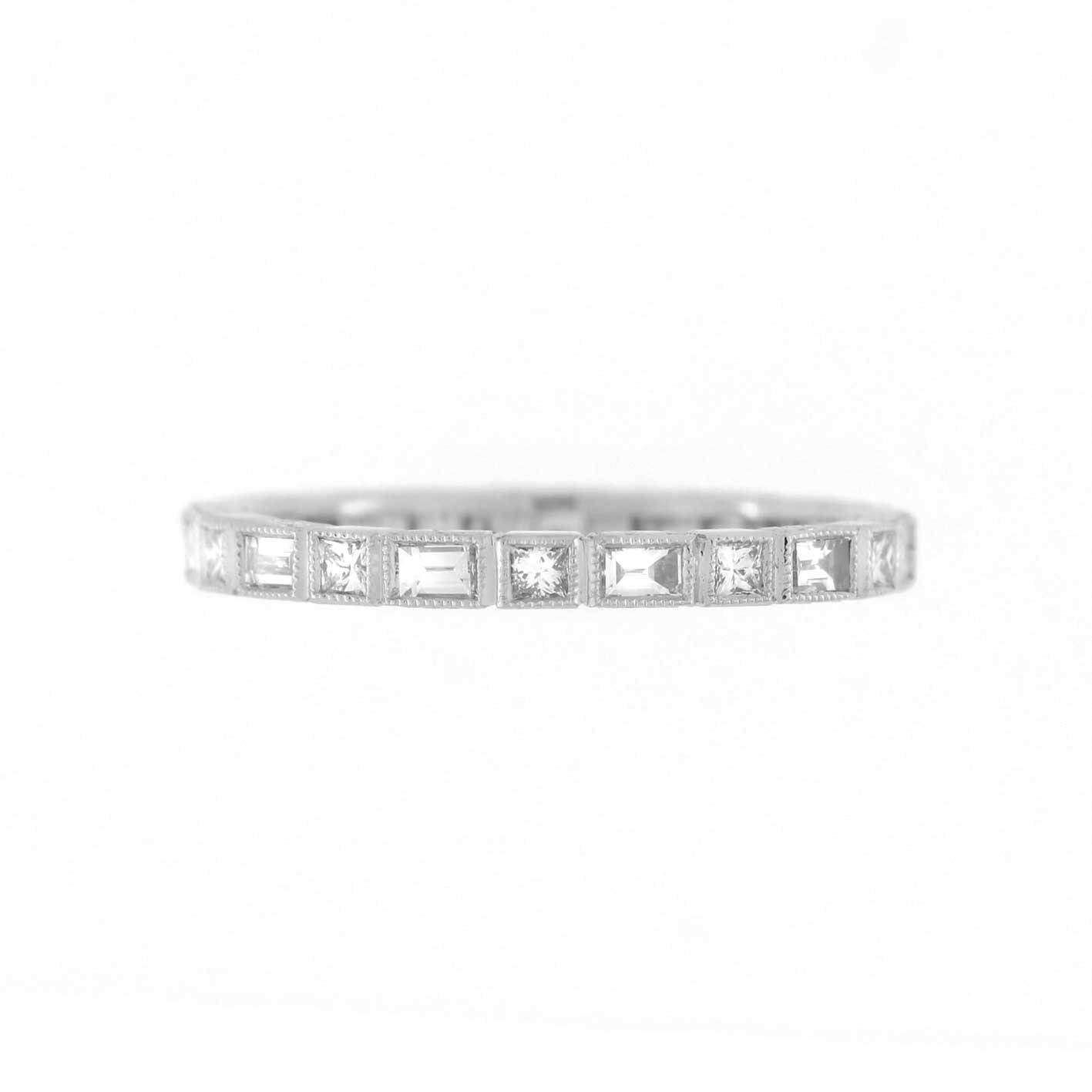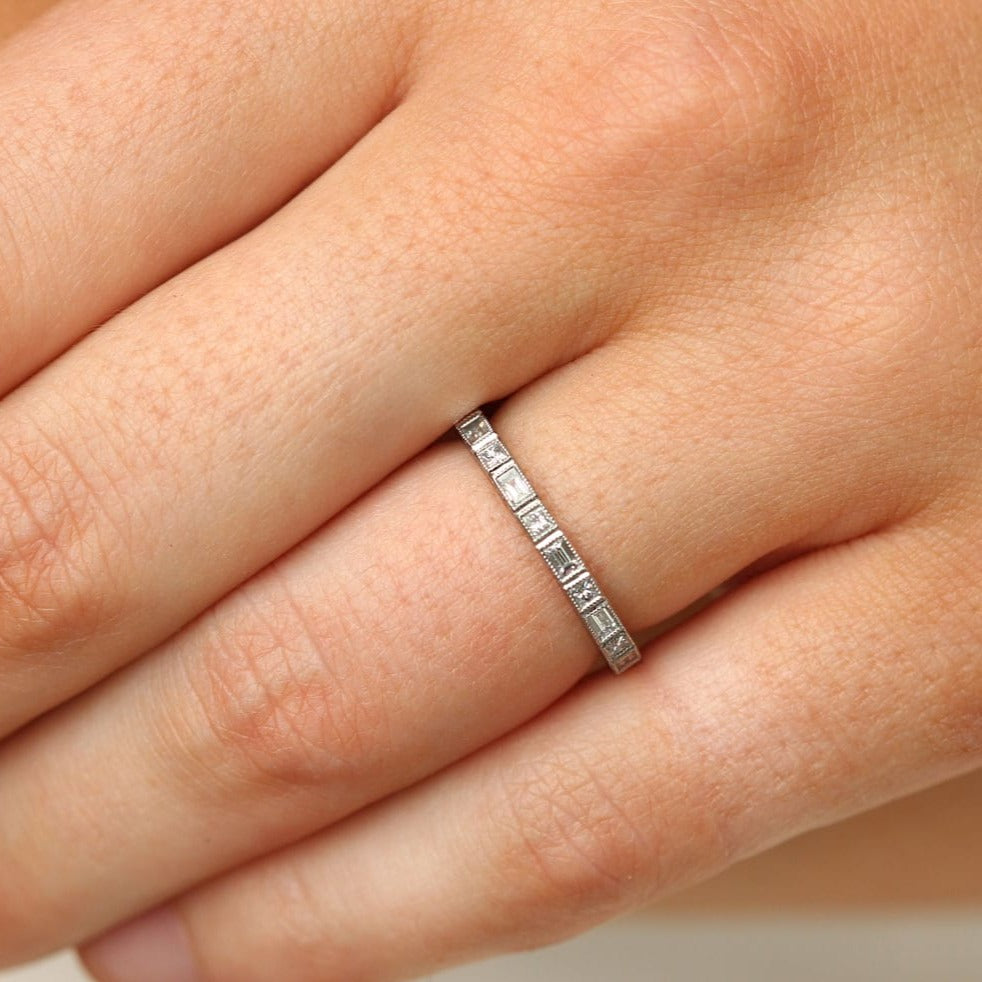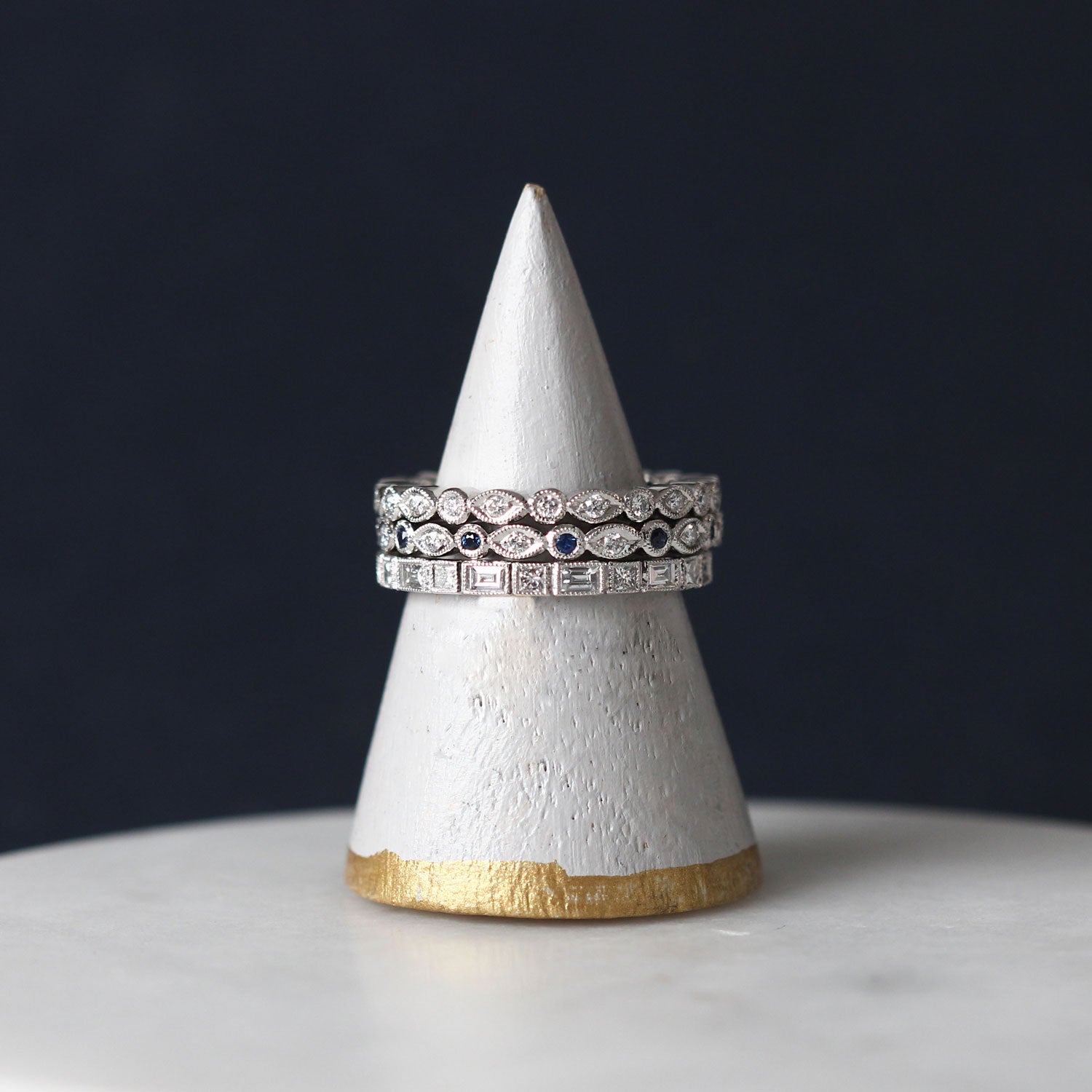 Baguette and Square Diamond Platinum Eternity Ring
Subscription • Save
R-UNG-1095/PR149DD
Free UK delivery
Baguette and Square Diamond Eternity Ring is hand made by Ungar & Ungar's master craftsmen.
Baguette and Square Diamond Platinum Eternity Ring
Details
Baguette and Square Diamond Eternity Ring is hand made by Ungar & Ungar's master craftsmen.
The ring is fully set with 0.70ct of white diamonds in Platinum and alternates between Baguette and Square diamonds. The ornate milgrain edging creates a vintage feel that is timeless and classic, making this a beautiful alternative to traditional wedding and engagement rings or a perfect complement to an existing stack of diamond rings.
Platinum

0.70ct white diamond total
The ring measures 2mm wide
size M.
For sizes above O please request a quote.
Sustainability
Recycled Metal 

The pieces are made from recycled gold.

Conflict Free Diamonds

 

They use ethically sourced diamonds that are from conflict-free areas and adhere to the Kimberly Process. 

Craft

Hand crafted by artisans, the styling encompasses the time-honoured tradition of hand mill-graining.
Delivery
Free Delivery for UK Orders. Anything ordered from outside the UK will be liable for country specific duties and taxes.

 

How does it work?

For every item we post, EC One makes a financial contribution that helps support projects which protect and restore forests. These certified projects are in cooperation with local communities and comply with the carbon offset protocols and standards.
Why Ungar & Ungar?
Ungar & Ungar are a husband and wife team with deep roots in the jewellery trade; Bernard's family have been fine jewellers for five generations.


The collections all have a vintage feel and are inspired by a styles from a bygone age.  Their aim is to create rings that are timeless with an enduring elegance.


The Ungar & Ungar collections are crafted by artisans and many incorporate the traditional technique of milgraining. This is a painstaking process that imprints every piece with an exquisite pattern. This combined with micro-set diamonds and gemstones creates Ungar & Ungar's signature feel.