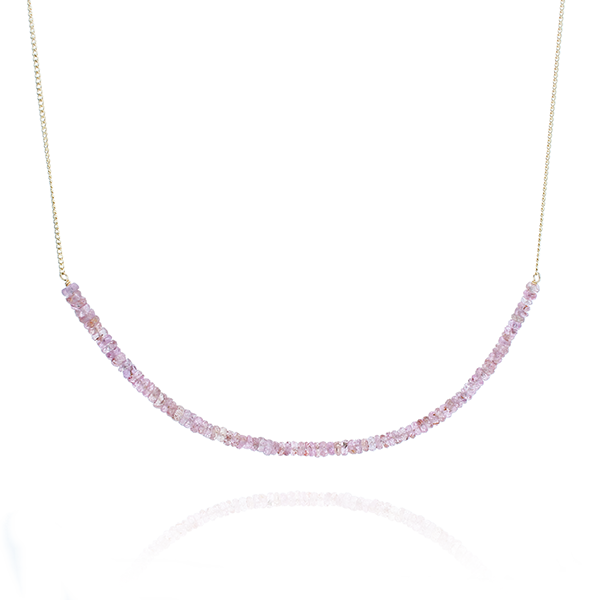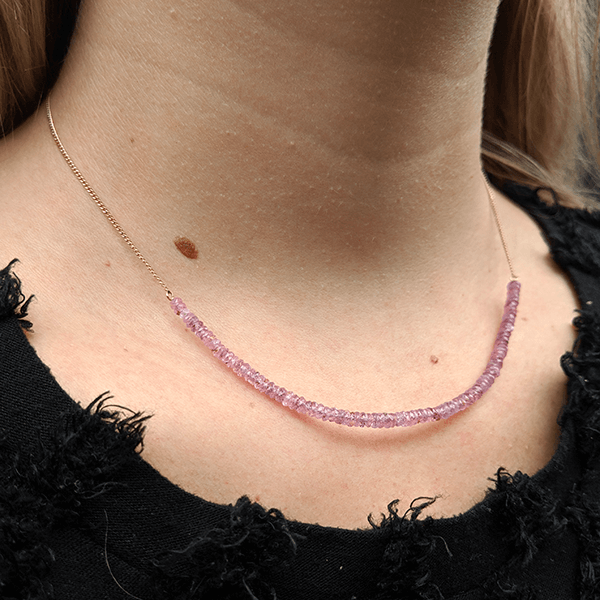 Pink Sapphire Bar Gold Necklace
£97.50
Regular price
£195.00
Subscription • Save
351355
Free UK delivery
The Pink Sapphire Bar Gold Necklace by Rue Belle is a modern take on classic Sapphire collar. The soft pinks of the beads are perfectly complimented by the gold-filled chain. The gentle curve of the line of Sapphires sits perfectly against the collarbone giving a refined look that oozes feminine chic! The necklace measures 16.5 inches in length, the length of Sapphires is 5" and the beads are approximately 2mm
Pink Sapphire Bar Gold Necklace
£97.50
Regular price
£195.00
Details
The Pink Sapphire Bar Gold Necklace by Rue Belle is a modern take on classic Sapphire collar. The soft pinks of the beads are perfectly complimented by the gold-filled chain. The gentle curve of the line of Sapphires sits perfectly against the collarbone giving a refined look that oozes feminine chic! The necklace measures 16.5 inches in length, the length of Sapphires is 5" and the beads are approximately 2mm
Sustainability
Craft

Their jewellery is made in their workshop in Maui by local woman from the island. 

Empowerment

At the RueBelle Atelier in Hawaii they only employ women from the island.
Delivery
Free Delivery for UK Orders. Anything ordered from outside the UK will be liable for country specific duties and taxes.

 

How does it work?

For every item we post, EC One makes a financial contribution that helps support projects which protect and restore forests. These certified projects are in cooperation with local communities and comply with the carbon offset protocols and standards.
Why RueBelle?
RueBelle takes its name from founders Bella and Rudy.  They met on the Hawaiian island of Maui where she was born and raised and Rudy, a Parisian, had come to surf.

Although the brand has grown, they still live on Maui and their workshop is tucked away on the stunning island that inspires them.  

The collections reflect a love of colour and the spirit of the islands and use ethically sourced semi precious stones to celebrate their natural surroundings.